If you have been following me since the GDS Design Contest, you might remember the little mini kit "Up, Up, and Away!" that I made in Round 2. Well, I gave it a makeover, turned it into a full kit, and even gave it a new name. I am very happy with how it turned out and hope you will be as well. I'm proud to now present to you
"A Spring In My Step
"!
This kit is HUGE! It has 18 papers, 40 individual elements (58 with recolors), and a Lowercase Alpha in 5 different colors. You should be able to use this kit again and again.
Plus, it's 25% off until March 25!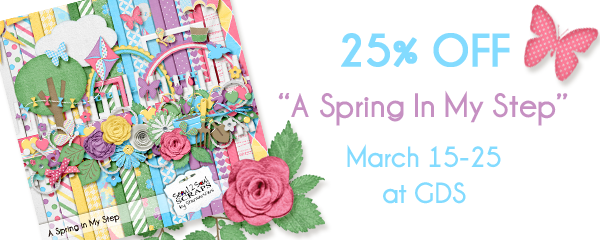 If that's not enough to get you excited, I'm sure what I'm about to tell you next will. :) I made an Easter Add-On to go with it and am giving it to my Facbook Fans for FREE until March 25. Just click on the image below to go to my FB page. You will need to "Like" me in order to download. Spread the word! It goes in my store on March 26.