Yeah!! It's my turn to host the BRAG BOOK Exchange!! I think I've got all my 4shared issues worked out, and am looking forward to smooth sailing!
I'm pleased to announce that my new kit
Granny's Trunk
is the chosen kit for this exchange
And there's a coordinating Add-On

Granny's Trunk and all the coordinating products are 25% off in the store for the next 2 weeks.....and include the Worn and Torn Papers, and the Alpha!
AND anyone who participates in the Brag Book Exchange, will receive these two brag book pages, made by me.....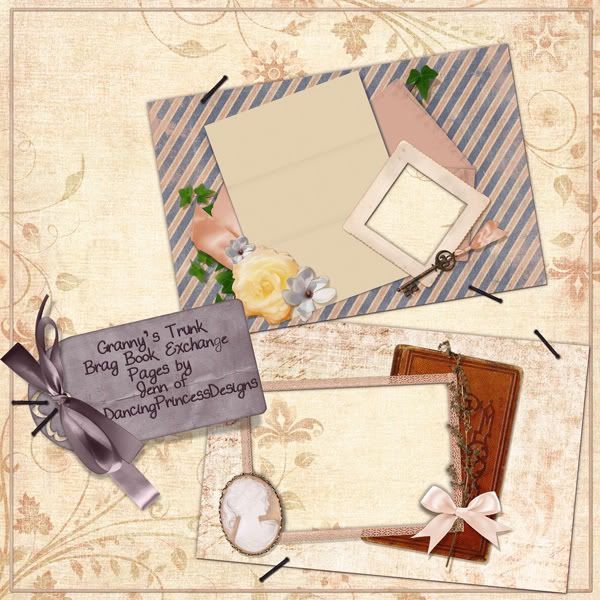 as well as all the other brag book pages submitted!!!
BUT THAT'S NOT ALL
(I sound like a "as seen on TV" commercial, giggle) Participants who use ALL of the Granny's Trunk Series (kit, add-on, W&T Papers, and alpha) will receive a mini kit of left over bits and pieces, including the double bracket frame and bow/wrap seen in this LO:

How's THAT for a deal?
Guidelines: UPLOADING GUIDELINES HAVE CHANGED SO PLEASE READ
* Each participant will submit at least 1, 4X6 brag book page but not more than 3 using this kit only (but you may include any commercial use supplies as well). Please put all of your pages on 1 preview page to upload to the gallery to prevent any non-participants from using these pages.
* Sign-ups are requested for this so that we know who is working on pages. Post here to say you are planning on participating.
* Layouts should be created and saved at 4" x 6" and 300ppi starting with a transparent background. Your photo areas should be transparent when you are done.
* If you are not familiar with the process of creating a quick page, we have a couple of tutorials to help you in this area: Paint Shop Pro & Photoshop
* If you are unable to create a .png file, please design your quick page by creating your layout and using a white or black area (whichever is of most contrast to your layout) for the photo placements. Save your layout as a flattened .jpg file at full resolution (unless you are submitting a png file already). Please share this file and then post in this thread that you need help poking the holes for the pictures and I will help do those for you.
* Please name your files as follows to help me track these easier. YourForumName_KitName_bb1.png so as an example, mine would be jcamargo6_grannystrunk_bb1.png.
* Post your preview of your bb pages all on one layout at 600x600 and upload it to the
Brag Book Exchange Gallery
for everyone to see!
* I will need the .png or .jpg file at the full 4X6 size for each brag book page you submit. Please do not upload the preview to the QP folder below...just the png quick page files.
****NEW***: In an effort to get you the albums much quicker after the exchange is over, we're implementing a new way for us to share the files.
* Please upload JUST THE FULL PNG FILES to
Granny's Trunk BB Exchange Folder
* Toward the bottom of the screen you will see an "Upload Files" small window. Click the browse button inside there and navigate to your PNG files and choose that to upload.
* Your computer will then upload the file so it may take a minute or two. After the upload is completed, you will not see anything in this folder or even see anything to tell you it was successful but I'll let you know if there's a problem.
* Please post here that you uploaded so I can make sure it came through OK.
* Once the exchange is over, I will figure out who hasn't uploaded or has a problem with their files and when all is good will make it so that you can see all the files that everyone uploads and then you can download them!
* The submission deadline for this round is end of the day on
Saturday, May 9th, 2009
. Please have your images posted and uploaded by then so I can get them out to everyone.
I'll add everyone who signs up to the bottom here and update it when I see your pages uploaded!
Participants:
Jenn-UPLOADED
britnkaysmemaw2-UPLOADED
donakat-UPLOADED
elenasworld-UPLOADED
emst-UPLOADED
techie girl-UPLOADED
glonet-UPLOADED
sagedw-UPLOADED
jessrdgs-UPLOADED
Gem-UPLOADED
phardy1945-UPLOADED